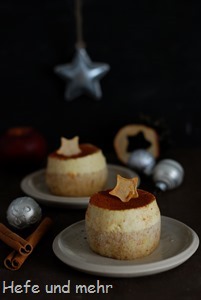 Christmas time can be a hectic time as well. To makes things easier, I like to have desserts that can be prepared in advance. Like this little mousse cakes, which can be prepared one week before time and then wait patiently in the fridge for their great day. You just have to remember the night before to take them from the freezer and defrost them in the fridge over night. The next day, they just have to get a little cocoa dusting and their dried apple star decoration and they are ready to be served.
With almond sponge, Cinnamon Mousse and a core of apple curd they are light and delicious end for any festive meal during Christmas time! And if you like to keep life even more simple, then skip the sponge and fill the mousse in little glases. This tealight holders have the perfect size!
Cinnamon Mousse Cake with Apple Curd
yields 10 mousse cakes with 6 cm Diameter(or 10 120ml-glasses)
Almond sponge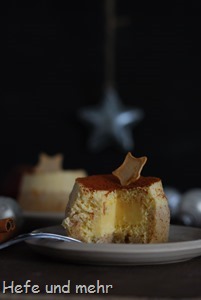 85g finely grounded almond
80g powdered sugar
1 pinch salt
25g flour Type 405
2 Eggs (120g)
20g molten Butter
2 Egg white(85g)
20g sugar
Appel Curd
50g lemon juice
100g sugar
200g apple sauce
1 egg yolk (size L)
1 Egg (size L)
1 Tsp Zimt
100g Butter, cut in pieces
Cinnamon mousse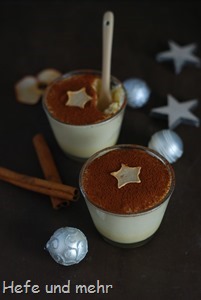 250g Milk
2g Agar
3 Egg yolk
20g sugar
1.5 Tsp Zimt
100g Creme Fraiche
150g cream
70g sugar
15g Water
2 egg white
Decoration
For the decoration slice the apple thinly (use a mandoline) and cut stars out of it using a cooking cutter. Let dry completly at an airy place.
For the apple curd heat apple sauce and lemon juice with sugar and butter, until the butter melts. Mix egg yolk and egg and pour it through a sieve into the juice mixture. While stirring constantly heat the mixture until it thickens. Fill into small Petit four-Silikonform (4 cm Diameter) and freeze for at least 2 hours.
For the amond sponge whipe eggs with powdered sugar, salt and grounded almonds until frothy. Fold in flour and molten butter.  Bead egg white with sugar and starch to soft peacks. Fold into the batter.
Spread the dough on a baking tray and bake at 180°C (convection mode) for 8 min. Let cool down, then cut into stripes of  17,5 cm x 2,5 cm schneiden and place them into small cake rings (Diameter 6 cm, High 4 cm). Cut almond sponges circles of 4 cm Diameter and place them in the cake rings.
Now prepare the Cinnamon Mousse: Boil milk with agar for 2 min. Mix egg yolks with sugar and 3 Tbs. hot milk,  then stir the egg yolk in the hot milk.Heat the mixture slowly, until it starts to thicken, then remove from the stove. Let the mixture cool down to 35°C. Stir in the Creme Fraiche and the whipped cream
In the meantime whip the egg white to soft peaks while boiling sugar and water until its reach 121°C. When the sugar syrup reach the temperature, slowly pour it into the egg white while whipping. Keep whipping until it cool down to 40°C, then fold it into the mousse.
Pour the mouse in the prepared cake rings, so that they 2/3 filled. Place the frozen apple curd discs on top and fill with mousse up to the rim of the cake ring.
Freeze for 2 at least 2 hours (up to 2 weeks). For defrosting remove the cakes from the rings and place them in the fridge over night. Dust with cacao and add a apple star just before serving.
Tipp: As mousse dessert fill the apple curd into small glasses (120ml) and freeze the glasses for 30 min, then top with the cinnamon mousse.