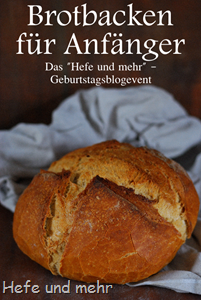 For my Blog-Birthday-Event I got many terrific recipes. They range from No knead Breads over different breads with Nuts, Potato Breads to simple Sourdough recipes. I enjoyed reading the mails and Blog entries very much!
It just took me a bit of time to put everything together as round up as we had some very busy weeks here (cooking for Ph.d. Defenses for example). And in the meantime I although put together all of my recipes for the Bread baking course for a little eBook which will be available from Saturday on (but only in German for the Moment).  In the first four weeks you can download it for free at Amazon and other online bookstores. Later it will be available for a small fee, so download it now 🙂
And please enjoy all this great recipes for my Birthday Pary!