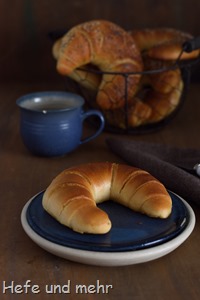 I love "Hörnchen" the halfmoon shaped pastry made of sweet challah or brioche dough since my childhood. And since I made the delicious Kifle I catched the "Hörnchen" fever once again. And so it was out of question what the third recipe for my vegan "one for all" sweet spelt dough had to be. They can be baked with reduced or no sugar, too. Then they are great with hearty spreads as well.
To achieve the form of this soft, fluffy breakfast pastry it is important to roll the dough out into a long and very thin oval and then roll it up again with some tension. To prevent them from touching each other while baking I worked the dough in two batches.
For a shiny brown crust I used a glaze made from roasted starch and water and applied before and after baking. The shine of this glaze is nearly as strong as the traditional egg glaze. Optional sprinkled with poppy seeds, this "Hörnchen" are the perfect breakfast treat fitting not only for those with dietary restrictions!
Vegan Spelt Hörnchen
yields 12 Hörnchen
Pâte Fermentée
125g spelt flour Type 630
87g Water
1g Salt
2g fresh yeast
Water Roux
75g Water
15g spelt flour Type 630
Teig
Pâte Fermentée
Water Roux
360g spelt flour Type 630
30g Nut oil (roasted hazelnut or walnut)
100g Water
50g sugar
60g (vegan) Margarine
7g fresh yeast
3g Salt
Shiny glaze
2g starch (roasted)
100g Water
Mix all ingredients for the Pâte fermentée and proof it for 1 hour at room temperature. Then put the dough into the fridge for 12 hours.
For the water roux mix flour and water and bring to boil while stirring. Cover with Clingfilm and let it cool down to room temperature.
Knead all ingredients except sugar and margarine for 8 min at slow speed.  Now add the sugar in two increments and knead 1 min after add each portion of sugar. At last add the margarine all at once. Knead to full gluten development.
Let rise overnight in the fridge or  for one hour room temperature plus 1-2 hours in the fridge.
Divide the dough into six pieces of 85g and place the remaining dough back into the fridge. Preform to balls and let them rest for 15 min. Flat the balls to ovals with a length of 30cm and a width of 12 cm. Roll with tension from the short side to a log. Form to a crescent and place on a paper lined baking tray. Now start to form the second batch.
Proof for 90 min.
In the meantime prepare the shiny glaze: Bring starch and water to boil while stirring constantly. Remove from the heat and let cool down to room temperature.
After proofing brush the first tray with the shiny glaze. Bake at 230°C for about 16-18 min with steam. Brush again with shiny glaze.
Now bake the second tray according to the description of the first one.