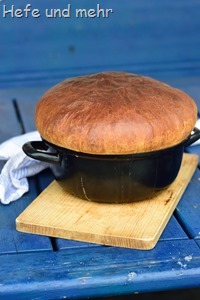 A small part of a comment caught my attention: the word "Pottweck". I asked for a description and got a very detailed explanation from Jürgen. Nicole added some other details and so I was straight on my way to the kitchen. They explained to me that the Pottweck is a regional speciality from the area lower rhine. Its name stems from the way it is baked: in a pot (=  Pott in the dialect). And the pot gives the bread its typical mushroom shape, too, as the bread rise highly over the pot.
For the ingredients both were united at the buttermilk as liquid, while they differed at the used fat – it seems that either butter, butter plus some lard or only margarine can be used. I stayed with the butter for the beginning, but it is easy to swap part of it with lard or replace it completely with margarine. To increase flavour complexity and to enlarge shelf life I added a pâte fermentée to the formula as well as a little (untypical) addition of cream. And as my old black enamel pot is a bigger one, I knew from beginning that it had to be one big bread.
To watch the bread while baking was pure fun. It rose higher and higher. It was hard to let it cool and wait to for the photos before tasting the bread. But then we had the fresh bread for breakfast and where extremly happy with the slight sourness and complex flavour! A delicious treat on Saturday morning!