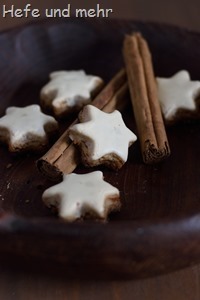 There are nearly no good sides of being ill. But the flu that put me out of order beginning of December let me discover this terrific recipe and that is definitively a good thing. As I was dozing on the sofa the TV show "hier und heute" was running on TV. And with amusement – and bit of envy – I saw how the moderator nibbled one after the other of the beautiful cinnamon stars. His delighted face told more than hundreds of words how delicious they were- And so I put the recipe directly on my mental "to bake" list for Christmas. The recipe from Marcel Seeger was already downloaded and saved.
This weekend I was finally fit enough for baking cookies. And this recipe was on position one for testing. And after I eat the first cookie I knew why the moderator was so delighted. They are gorgeous, a new keep for my favourite list!
Cinnamon Stars
Dough
200 g Marzipan
90g egg white
250 g powdered sugar
2 Tsp. cinnamont
1 pinch Salt
300 g almonds, finely grounded
Glaze
30 g egg white
160 g powdered sugar
a bit of lemon juice
For cutting out
Mix marzipan with egg white until smooth. Now add powered sugar cinnamon and salt and stir well. Add the almonds and knead until a stick dough has formed. Wrap the dough with cliingfilm and place in the fridge. The almonds will take up the excess liquid and will become firm and easy to handle.
The next day mix egg white and powdered sugar, then add a bit lemon juice until a creamy thick glaze has formed.
Roll the dough to a thickness of 1 cm. Spread with the glaze and cut out the stars. For a not so sticky cookie cutter, place the cutter in between in warm water with some drops of oil. Remove all excess water drops.
The remaining dough can be kneaded with some grounded almonds and rolled out once again.
In the meantime heat the oven to 160°C. Bake the cinnamon stars for about 10-12 minutes. Be careful not to over bake as they become dry then!