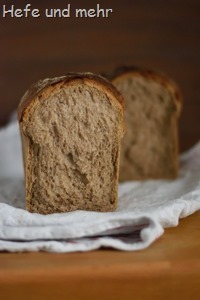 I struggeled a lot with Emmer or Einkorn Whole Grain Sandwich breads this year. The problem was always the  weak gluten network of the ancient grain in combination with the bran in the whole grain bread which destabilized the gluten network even more. And so the crumb never satisfied my high standards.
Adding Spelt flour to the mixture did not do the trick and so I still try to create the perfect recipe. And will continue in the next year. To relax meanwhile I decided to bake a sandwich with white wheat flour and 30 % whole emmer flour.
Test wise I decided to use every trick I know for a bread with tender crumb and stable crust: rose hip powder adds vitamin c which helps to strengthen the gluten network. Some egg yolk adds lecithin and helps – together with the butter – to create a fluffy crumb. Enzyme active malt break down some of the starch so the yeast get more sugar for a better fermentation. As well, the Enzyme activity provides tenderness to the crumb and helps to enhance the crispiness of the crust, too. The roasted malt I added only because I like its flavour.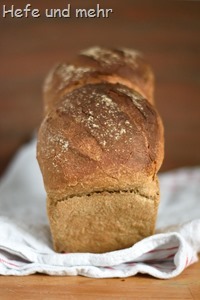 The result is even better then I hoped for. The bread rise very high, the crumb can be tore into long, tender strands, but is very stable at the same time. The crust ist crispy and sang while cooling down – always a good sign. And the flavour of the bread fulfil my hopes, too: mild but nutty due to the emmer with a subtle hint of sweetness due to the roasted malt.
And now, as this combination works well, I will try the recipe with white spelt flour in the next step. And then I will increase the amount of whole grain. I have new hopes for my emmer whole grain sandwich recipe…
Sandwich Bread with Emmer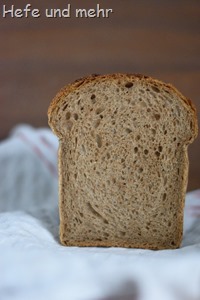 Emmer-Poolish
300g whole emmer flour
300g Water
0,5g fresh yeast
Dough
Emmer-Poolish
700g flour Type 550
440g Water
10g roasted rye malt
5g enzyme active Malt
40g Butter
10g rose hip powder (optional)
10g fresh yeast
20g egg yolk
20g Salt
The night before mix the ingredients for poolish let rise for 16 hours .
The next morning mix all ingredients for the dough and knead 3 min at slow speed, then turn to fast speed and knead to full gluten development (about 8  min).
Let the dough rise for 2.5 hours.
Now divide the dough in four equal pieces. Let the dough relax for 10 min, then form to round breads. Place two breads seam side up in each baking pan (for 750g).
Proof for 1.5 hours.
Preheat the oven to 250°C and bake the breads for 10 min with steam. Then release the steam and reduce the temperature to 220°C zurückdrehen. Bake for another 45 min.