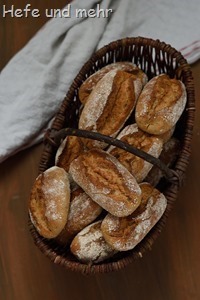 Slowly I find back into my everyday life after summer holidays. And summer seemed to be endless this year. I can't remember when we had such a long period of hot and dry weather. But now, beginning of september, I feel that autumn is shyly knocking on our door. On my daily way to work I can see how mist is now filling the valleys around me. These are mornings which wake the memory of my favourite poem from Eduward Mörike.
A memory of the fading summer is this recipe for three grain rolls. Made with einkorn, rye and wheat flour the rolls have a delicious nutty flavour. A bit of potaote flakes helps to keep the crumb moist and tender. They are nourishing rolls packed with flavour and a good portion of whole grain flour. And so they were the perfect snack on our long summer trip to the Normandy.
Three Grain Potato Rolls
yields 10 rolls
Sweet Starter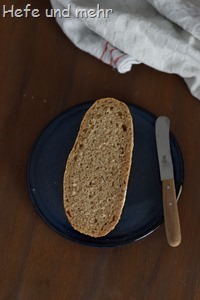 Teig
Sweet Starter
150g Einkorn-whole grain flour
75g rye flour Type 1150
75g flour Type 550
50g potato flakes
20g Egg yolk
30g Butter
10g Salt
10g inactive Malt
280g Water
5g fresh yeast
Mix the ingredients of the sweet starter and let it rise for 2-4 hours at 30°C.
Knead all ingredients for 5 min at slow speed. Then knead 8min at fast speed. The dough should be now soft, but not sticky.
Let the dough rise for 1 hour at room temperature.
Divide the dough into 95g portions. Form them into round balls and let them rest for 15 min. Now press them down lengthwise with the side of your hand, fold them together and roll it to a long shape.
Proof for 60 min.
Preheat the oven to 240°C.
Turn the rolls, so that the cut side face upside once again, and place them on a paper lined baking tray. Mist with water and bake with steam for about 18 min at 240°C. For really crisp rolls turn to convection mode during the last 5 min.