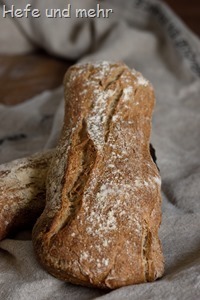 When I was shopping flour in our local mill I discovered a white emmer flour and I couldn't resist. It was to tempting and I had already the idea of a pure Emmer Ciabatta in my mind.
The "white flour" of the ancient grains can be varying in their "whiteness" as there is no norm to classify it. My flour turned out to be a darker shade of "white", so I guess it will equal something between a Type 812 and a Type 1050.
Kneading dough with ancient grain flour needs more attentiveness, as their gluten networks is more fragile and easy to over-knead compared to spelt. So testing gluten development during the kneading is a must here. The window pane test will help to judge this.
The flavour of this bread is great: deep, complex and irresistible nutty but without the slight bitterness of whole grain bread. And I'm already thinking of what to bake next with the other half of the flour bag…
Emmer-Ciabatta
yields 4 Ciabatta
Autolysis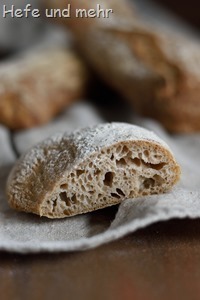 500g white Emmerflour
350g Water
Dough
Autolysis
4g Psyllium hulls
50g Sourdough from the fridge (100% Hydration)
25g olive oil
10g Salt
5g fresh yeast
2. Water addition
Mix flour and water and let it rest for 60 min at least.
Now add the remaining ingredients of the dough and knead for 5-8min at slow speed, adding the water in small increments while kneading. At the emd, the gluten network should be very well developed and the dough should be sticky.
If possible, place the dough in a square container, as this makes it later more easy to cut the dough into squares. Ferment for 3 hours, folding every 30min, then place the dough in the fridge for at least 16 hours. After that time span dough should be bubbly. If not, increase the fermentation period a bit.
Heat the oven with baking stone to 250°C
Flour the countertop and carefully turn the dough on it. Divide the dough with a dough scrapper into four pieces. Gently stretch the dough pieces to the typical ciabatta shape.
Lay on a couche (floured), cover with a second cloth and proof for 50 min.
Bake on the preheated stone for 35 min with steam.