After some really hot days weather has turned and its finally "real autumn". And on this cold and rainy Sunday morning I am very glad that I can sit in front of my oven and see how the Pumpkin Seed rolls rise in the heat. And I feel a bit sorry for all people who have to run through the pouring rain in order to get fresh rolls for breakfast.
My Pumpkin Seed Rolls follow once again my favourite formula: a slow overnight dough which is just cut into squares the next morning. A part of whole grain flour is also some I like to add to these kind of rolls, as it adds a deepness to the flavour. In this case, the flavour is especially delicious. The nutty flavour of Einkorn and pumpkin seeds works well together to give these rolls its specific aroma.
Pumpkin Seed Rolls with Einkorn
yields 9 rolls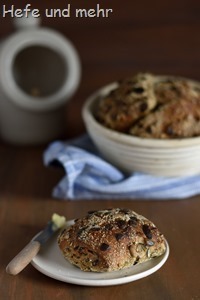 40g flour from dried potatoes (or Potato flakes)
330g flour Type 550
120g einkorn flour
380g Water
15g sourdough (optional)
20g egg yolk
20g Butter
10g fresh yeast
10g Salt
2g roasted rye malt (optional)
2g Psyllium hulls
80g Pumpkin seeds
For sprinking
30g Pumpkin seeds, coarsely chopped
Polenta
For the dough, knead all ingredients except butter for 4 min at slow speed. Now add the butter all at once and knead to full gluten development (2-3 min)
If possible, place the dough in a square container, as this makes it later more easy to cut the dough into squares. Ferment for 2 hours, folding every 30 min, then place the dough into the fridge until the next morning (10-14 hours).
Sprinkle the surface generously with Polenta and pumpkin seeds and carefully transfer the dough on the countertop. Take care to keep as many air bubbles in the dough as possible. As now the other side is facing upwards, sprinkle these side of the dough with Polenta and pumpkin seeds , too. With a dough scrapper cut the dough into 9 squares of the same size.
Proof for 70-80 min on a baking linen.
In the meantime heat the oven to 250°C
Carefully place the rolls on a baking tray.
Bake at 250°C for 10 min with steam, then reduce the heat to 230°C and turn the mode to convection to increase the crispiness. Bake for another 10 min.