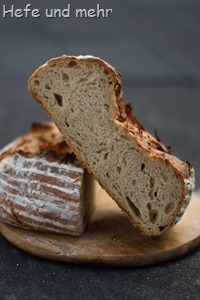 Autumn means always potato time for me. And even after this hot and endless summer, when we had to harvest them already in august due to the drought, I hunger for the first loaf of potato bread. Here – in the region around cologne – potatoes are called Ärpel or Erpel. This dialectal term is a short form from "Erdapfel" (literal earthapple). And so is an Ärpelbrot nothing other then a potato bread.
These Variant is in some points similar to the Oberbergischen Ärpelbrot but is baked with a rye poolish and yeast. And so it is a variant that works well for bread baking beginners too. It is a aromatic bread whit crisp crust and tender crumb.
For me, it is the right bread to eat it – thickly slathered with Plum butter – on a cold, misty autumn morning!
Ärpelbrot
yields 2 breads of 800g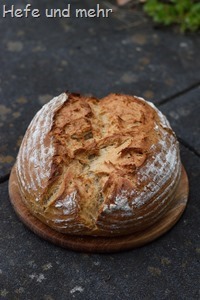 Rye poolish
150g whole rye flour
300g Water
1g fresh yeast
Dough
Rye poolish
400g starchy potatoes
150g whole rye flour
600g flour Type 550
30g Butter
16g fresh yeast
30g molasse
24g Salt
40g Water if needed
Mix ingredients for the poolish and ferment it overnight (12 hours).
Cook the potatoes, peel them and mash them. Let the mashed potatoes cool down to room temperature
Now mix all ingredients for the dough, and knead it 10-15 min by hand.
Let the dough rise to 2 hours
Shape the dough into two oval loaves and place them seam side down in a proofing basket.
Proof for 1 hour. In the meantime preheat oven and baking stone.
Bake for 10 min at 250°C with steam on a hot stone, then turn reduce the temperature to 200°C and bake another 45min. For a extra crisp crust turn on convection mode during the last 10 min.