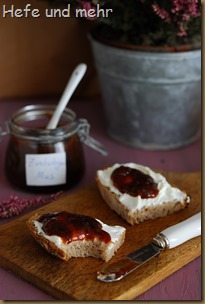 Since three years I use my Slowcooker to cook plum butter. This is very relaxed as I just have to remove the plum pits the night before and turn on the slow cooker. I put the lid on the cooker in a right angle, leaving a gap so the evaporated water can escape. After 12 hours cooking on "High" the juice has reduced a good deal and after pureeing it needs another three to four hours until it reaches the perfect thick consistence.
The dearest one likes his plum butter without a lot of spices, so I add only half of a cinnamon stick and a tiny little bit of a vanilla bean. Just enough to underline the flavour without shining through. And as I use only a bit of sugar, I preserve the glasses of plum butter, just to be on the safe side. Last year I tested Michas Methode with boiling the glasses covered with water in a big pot. It worked like a charm and the plum butter kept well for one year.
Plum butter (Slowcooker recipe)
für 4 Gläser
2 kg Zwetschge
200g sugar (if the zwetschge is very sour, use a bit more)
1/2 cinammon stick
1/4 vanilla bean
Remove the pits and place the zwetschgen with sugar and spices in the slow cooker. Place the lid on the cooker in a right angle, so the steam can escape. Cook 12 hours at high.
The next morning remove the spices and puree the plums. If the fruits are very sour, add some additional sugar. Cook on high for another 3-4 hours, until the butter has a thick consistence.
Fill in sterile glasses and place in a big pot with boiling water. The lid has to be covered with boiling water! Cook for 20 min and let cool down together with the water.