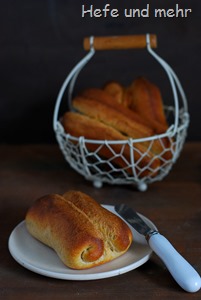 In August we spent a weekend in the beautiful Swabia. A part of my family has its roots there and I always enjoy being there. Eating some pretzels is then a "Must" of course. When we stop at a bakerie in Schwäbisch Hall, I spotted a roll made with some Emmer and Quark (Curd). But sadly the last one was already sold when it was my turn. So I bought pretzels and Briegels instead. But the idea was fixed in my head. And soon afterwards I recipe began to form in my head.
As spelt is a typical grain for Swabia, I decided to use a mix of Emmer and Spelt, which adds a nice nutty flavour to the rolls. The Quark makes it moist and if I would not know, that I added 30 % whole grain flour, I would never have guessed it.
Spelt, Emmer & Quak Rolls
yields 10 rolls
350g Spelt Flour Type 630
150g Whole Emmer Flour (alternatively  Whole Spelt Flour)
100g Quark
230g Water
10g fresh yeast
10g salt
20g Honey
15g egg yolk (from 1 Egg size M)
Knead all ingredients for the dough for 10 min by hand. The dough should be now soft, but not sticky. If it is very stiff, add a little bit more water. The need of water depends on the potatoes.
Let the dough rise for 1 hour at room temperature (or over night in the fridge  ).
Divide the dough into 90g portions.
Roll each piece into a 18 cm long band, fold both long sides 1 cm to the middle and roll it into a log from both sides.

Proof the roll seam side down for 45 min.
Before baking turn them upside down and bake at 250°C for 20-25 min with steam. Turn the convection mode on for the last 5 min to enhance a crisp crust!