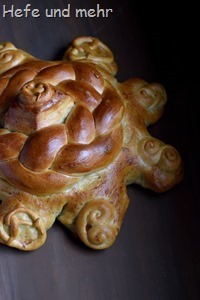 I am always fascinated how one recipe can lead me to the next (and the next…). Like when I was researching for the Rheinische Neujährchen, which leaded me to the Variant from the Westerwald. And then a reader commented about a tradition from reutlingen called Mutschel day. This day is the first thursday after Three Kings Day and at this day the people in Reutlingen a playing dice games in order to win a mutschel.
The mutschel is a highly decoreated bread made from a very rich dough. The bread has a eight pointed star shape with a bump in the middle. The shape is much easier to form then I first thought as the dough ball just has to be cut like a "#" and the sides then has to be pulled away and shape into pointy tips. I made pictures form the process but used a tinier variant of the mutschel as it was much easier taking pictures from it then from the big one.
Reutlinger Mutschel
für 1 Mutschel
Pâte Fermentée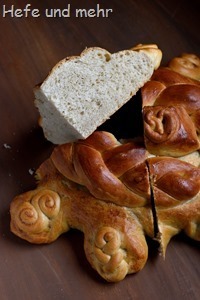 175g flour Type 550
125g Water
2g fresh yeast
3g Salt
Teig
375g flour Type 550
185g Milk
8g fresh yeast
7g Salt
2g enzyme active Malt (optional)
90g Butter
Glazing
Mix all ingredients for the Pâte fermentée and proof it for 1 hour at room temperature. Then put the dough into the fridge for 12 hours.
Knead all ingredients except the butter for 5 min at slow speed.
The knead 7 min at slow speed. At last add the butter all at once and knead until the butter is completely incooperated.
Proof for 1.5 hours.
Divide the dough into one piece of about 670g, three pieces of 60g and a left over piece (about 50g) for the decorations.
Roll the three 60g pieces to strand of 40cm and braid them.
Now form the big dough piece into a ball. Cut the surface like a "#", pull the sides away and form them into pointy tips. Place the braid around the middle.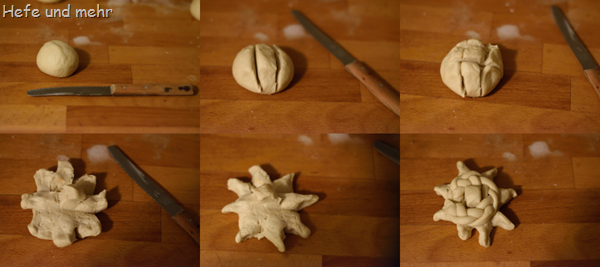 Place on a paper lined baking tray.
Proof for about 1.5 hours.
In the meantime form nine little decorations for the bread (pretzels, little braids, spirals etc.) and freeze them until needed.
Heat the oven to 170°C.
After proofing brush the bread with egg.  Place the decorations on the middle and the tips and glaze them with egg, too. Bake at 165°C for about 35 min with steam.