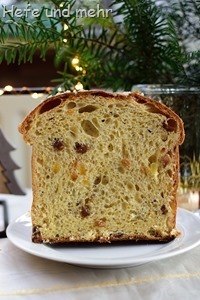 It is already middle of January, but I still have two Recipes from christmas waiting. The first one is the recipe for a spelt panettone. Baking panettone or pandoro on the 23. December is already a kind of tradtion here at "Hefe und mehr". In the weeks before, I take intensivly care of my sweet starter to make it especially fit for the task.
As baking Panettone is already nearly a no brainer. And so I was looking for a new challange. Switching from wheat to spelt is definitly more challenging, as kneading the sensitive spelt to full gluten development needs experience. And it is a good idea to check which sort of spelt you use. Different spelt sorts behave differently as their gluten composition differs. For Example if you use Oberkulmer Rotkorn you need to shorten the kneading time compare to Franckenkorn, which I used here.  But with these in mind, baking panettone with spelt works very well. Just keep a close eye on the gluten development.
Spelt Panettone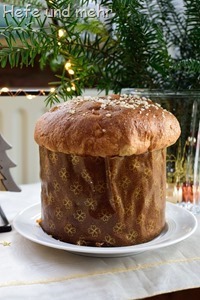 yields 1 big Panettone  and 15 Minis
60g Sweet Starter (freshly made or at 2-3 time refreshed the day before)
60g spelt flour Type 630
30g water
First dough
100g spelt flour Type 630
75g egg
30g water
25g honey
Second dough
60g spelt flour Type 630
25g egg
20g honey
5g soft Butter
all of the first dough
Third dough
125g raisins
all of the second dough
250g spelt flour Type 630
5g psyllium hulls
5g Salt
20g honey
Seeds of 1 Vanilla bean
grated Orange peel of 1/2 Orange
greated lemon peel of 1/2 lemon
185g Egg
65g Water
75g sugar
225g Butter
100g candid orange peel (chopped)
50g candid lemon peel (chopped)
accessories
Paper Panetonne molds (big ones with an diameter of 13,4 cm and height of 9 cm, Mini-Form with Diameter of 6 cm, Height of 4,5  cm)
6 30cm long skewers
Mix all ingredients for the Sweet starter and let it rise for 2-3 hours at 30°C until the volume doubled.
First dough: Mix all ingredients to form a homogenous dough. Ferment for 1.5-2 hours at 30°C until the volume doubled.
Second dough: Mix first dough with the other ingredients for the third dough and ferment it for 1.5-3 hours at 30°C until the volume doubled.
In the meantime pour boiling water of the raisins and let them soak for 15 min. Strain them and pat them dry between kitchen tissue.
Third dough:  In a stand mixer mix the third dough with flour, honey, spices, water salt and egg yolk and knead for 5 min at slow speed. And another 6 on fast speed until medium gluten development.
Now add 20g sugar and mix on slow speed for one minute.
Add another 20g sugar and continue mixing for one minute. Continue like this until all sugar is incorporated.
Continue mixing on medium speed until full gluten development (about 5-8 min). Now add the butter and knead until the butter is fully incooperated (about 2 min). Now add the raisins and the candid lemon and orange peel and knead shortly at slow speed.
Ferment for 4 hours at room temperature. The volume should triple in this time.
Now grease the counter and your hands very well with butter to prevent the dough to stick. Divide the dough into 3 equal parts (about 650g). For mini panettone use 65g of dough for each form. Shape into balls amd place in the paper mold
Proof for 10– 20 hours until it reach the top of the mold(Proofing time depends on room temperature and strength of the starter).
Prior wet the surface and sprinkle with some pearl sugar.
Bake at 160°C for 40-45 min with steam. The Mini-Panettone needs about 20 min.
Direct after baking hang them upside down between two chairs or into big pots and let them cool hanging for at least 4 hours.