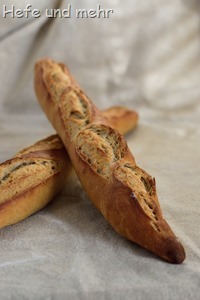 Having a cold means for me today, that I had to stayed warmly tugged under a blanket on the sofa instead of baking bread in a wood fired oven. To avoid getting to grumpy about that fact I decided to look back on past baking adventures:
For Christmas eve I promised to bring some baguette.  And as I felt adventurous I decided to try the Emmer Baguette I was thinking about since I baked the emmer ciabatta last autumn. The white emmer flour which I used lays somewhere between Type 812 and 1050. So it has still a good portion of bran.  To enhance the gluten network I opted for enzyme active bean flour – just like I did for the spelt einkorn baguette. And it worked surprisingly well, leaving me with a dough which was easily shaped to a baguette. It hold it shape very well during proofing and had a gorgeous oven spring. The crumb was not as open as I wished for – I guess it is due to the weaker gluten network of emmer compared to wheat or spelt. But the flavour makes us forget about this very fast, as it is at the same time creamy and nutty. So they are a delicious addition to the baguette family on the blog.
Emmer-Baguette
yields 3 Baguettes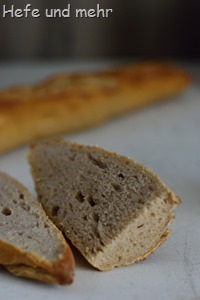 Dough
500g white Emmer-Mehl
350g Water
20g sweet Starter (optional)
3g enzyme active bean flour
3g fresh yeast
10g Salt
Mix emmer flour with water and let it rest for 60 min (autolysis). Now add the remaining ingredients and knead  5 min at slow.  Let it rest for 20 min, then fold it from the outside of bowl into the middle for three or four times. Let rest for 20 min again, then fold the dough again. Repeat another two times.
Ferment the dough for 24 hours in the fridge.
Heat baking stone in the oven to 250°C.
In the meantime divide into three equal pieces  andand roll each piece into a log. Let it rest for 20 min.
Preheat the baking stone in the oven to 250°C-
Now flatten the preshape baguette. Fold the dough from the long side into the middle and press it gently  together, then fold  it over again. Roll it gently into baguettes of 30 cm and proof them  seamside up in the folds of a  bakers linen (=couche) for 45min.
Slash flour times and bake the loaves on the hot stone for 25 – 30 min at 250°C with steam, until the crust is golden brown.