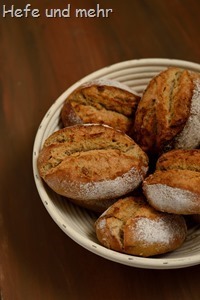 And sometimes a new recipe starts like this:
When filling the dried potato flour into a container I was left with a leftover that would not fit in. So what to do?
I opted for putting it in my dough bowl and started to build a recipe around it. As it was already late that evening, it was clear that I would do my favourite variant of rolls: Overnight rolls.
As I'm still testing coconut oil in baking, I used it here, too. But if you prefer butter, replacing the coconut oil with butter is possible, too!
Potato Rolls with Pumpkin Seeds
yields 11 rolls
Dough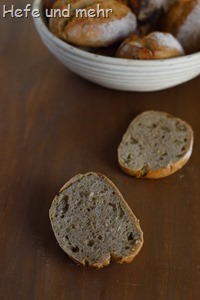 100g rye Type 1150
400g flour Type 550
50g sourdough starter
60g potato flour
12g Salt
10g inactive Malt
10g fres yeast
25g coconut oil
75g pumpkin seeds, chopped
390g Water
For the dough, hand-knead all ingredients for 10 min,  then place the dough into the fridge until the next morning (10-14 hours).
Divide the dough into 95g portions. Form them into round balls and let them rest for 15 min. Now press them down lengthwise with the side of your hand, fold them together and roll it to a long shape.
Proof for 60 min.
Preheat the oven to 240°C.
Turn the rolls, so that the cut side face upside once again, and place them on a paper lined baking tray. Mist with water and bake with steam for about 18 min at 240°C. For really crisp rolls turn to convection mode during the last 5 min.