For a family BBQ I had opted for bringing bread (anyone surprised by this?). And as I had some left over Einkorn flour from the Ein-Korn-Rolls I baked last week, my plan was made fast: Spelt Baguette with a good amount of whole Einkorn flour.
As Einkorn has the tendency to destablize the gluten network, I decided to use some enzyme active bean flour. The enzymes of this flour start oxidative processes in the dough, which leads to a better links between gluten proteins and thus to a stronger gluten network. If you need alternatives for bean flour please take a look at this post.
To watch the oven spring was mere "oven tv" for me. I sat happily before the oven and watched its oven spring. It was such a beautiful ovenspring, that it was very hard to to wait until the breads cooled before I sliced them. But then I was very happy: the crumb is for baguette with such a weak gluten network and one third whole grain flour surprisingly open. And the flavour is complex with its deep nutty undertones from the einkorn flour.
Spelt Einkorn Baguette
yields 3 Baguettes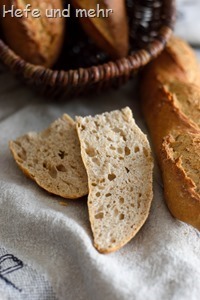 Autolysis
175g Whole Einkorn flour
250g Water
Dough
325g Spelt flour Type 630
20g sourdough
3g active bean flour
100g Water
3g fresh yeast
10g Salt
Mix einkorn flour with water and let it rest for 60 min (autolysis). Now add the remaining ingredients and knead  8 min at slow.  Let it rest for 20 min, then fold it from the outside of bowl into the middle for three or four times. Let rest for 20 min again, then fold the dough again. Repeat another two times.
Ferment the dough for 24 hours in the fridge.
Heat baking stone in the oven to 250°C.
In the meantime divide into three equal pieces  andand roll each piece into a log. Let it rest for 20 min.
Preheat the baking stone in the oven to 250°C-
Now flatten the preshape baguette. Fold the dough from the long side into the middle and press it gently  together, then fold  it over again. Roll it gently into baguettes of 30 cm and proof them  seamside up in the folds of a  bakers linen (=couche) for 45min.
Slash three times and bake the loaves on the hot stone for 25 – 30 min at 250°C with steam, until the crust is golden brown.