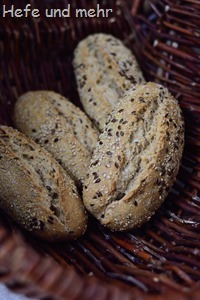 When I look over my roll recipe I published during the last few years, I see a clear tendence: overnight doughs. And my Ein-Korn-Rolls are no exception from this rule.
They are spelt rolls with 30% whole grain einkorn flour and about 16% seeds. This mixture give a deep nutty flavour and some bite. If you like, you can even roast the seeds, but I didn't as I want to prevent the seed flavour to overpower the einkorn flavour.
The rest of the recipe follows a well working schema: some egg yolk and butter for a tender crumb and some psyllium hulls to increase the water binding capacity. And that brings a  delicious roll. So delicious, that my dearest praised them at breakfast enthusaticaly. And that happens with my – from good bread quality spoiled – spouse rather seldomly 😀
Ein-Korn
yields 11 rolls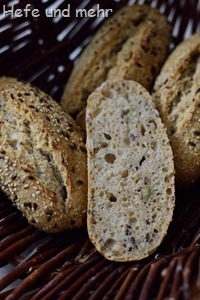 dough
150g Whole einkorn flour
350g spelt flour Type 630
20g Sesame
40g pumpkin seeds
20g flax seeds
360g  Water
20g egg yolk (from 1 egg size L)
30g Butter
3g psyllium hulls
10g Malt
10g fresh yeast
10g Salt
optional 10g Sourdough
Seed mixture
Mixture from poppy seeds, sesame, polenta
Knead all ingredients for the dough for 5 min at slow speed. The dough should be now soft, but not sticky.
Let the dough rise over night in the fridge.
Divide the dough into 90g portions and form them into long rolls. Now rolls wet their surface and dip them into the seed mixture.Cut them with an serrated knife to 3/4 deep
Turn the rolls on the cut and let them proof for 30 min on a bakers couche.
Preheat the oven to 250°C.
Turn the rolls, so that the cut side face upside once again, and place them on a paper lined baking tray. Mist with water and bake with steam for about 20 min at 250°C. For really crisp rolls turn to convection mode during the last 5 min.