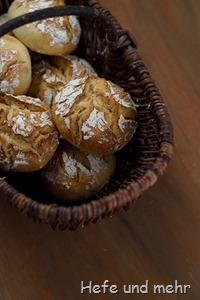 Sometimes Inspiration is knocking on our doors surprisingly. My sources of inspiration can be various: from something I saw on TV, something I got told, a picture from the web to a question of reader everything is possible. And sometimes reader questions result in the very best ideas.
And this is the origin of the idea for this rolls, too. A reader asked for crusty rolls with a lot of rye. And my mind started to turn on this idea directly. As pure rye rolls lack the volume and crispy crust of rolls with rye and wheat flour, I decided to bake rolls with 50% rye flour.
The rye flour is the most whitest rye flour you can buy in Germany. Or, to be more precisely, you can get it only in south Germany where it is used for making traditional rye fritters. But the recipe works with higher ash content flour like type 997 or 1150 as well, but will yield a bit more rustic rolls. And the rolls are worth a try anyway: tender crumb and crisp crust they are a  delicious counter part to the mild all wheat rolls on the breakfast table!
Crusty Rye Rolls
yields 10 rolls
Sourdough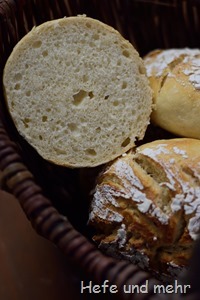 130g rye flour Type 610 (alternative Type 997 or 1150)
130g Water
13g sourdough
Dough
sourdough
120g rye flour Type 610 (alternative Type 997 or 1150)
250g flour Type 550
200g Water
10g Salt
10g fresh yeast
40g Butter
20g Egg yolk
Mix the ingredients of the spurdough and let it rise 14-16 hours at 25°C.
Knead all ingredients for the dough 5 min at slowest speed, then around 8 min on fast speed.
Let the dough rise for 90 min on room temperature-
Before starting to form the rolls preheat the oven with the baking stone to 250°C.
Divide the dough into pieces of 90g each.Preshape to a ball and let it rest for 10 min.
Now lay a piece of dough in front of you and lay your hand on the dough. Start to circle your hand fast while bending the hand slowly, to create tension on the dough. At the end the roll should be nicely round and springy. On the bottom, a little hole will form. (Here is a niece how to" video).
Place the rolls on a well floured couche or tea towel on the bottom side (with the hole).
Proof for 45 min.
Prior to baking turn the rolls upside down (the side with the hole facing now upwards).
Place the rolls into the oven seamside up, reduce the temperature to 23°C and bake with steam for 5 min, then release the steam and bake for another 15-20 min. Open the oven twice during baking to release the steam to enhance the crisp crust.