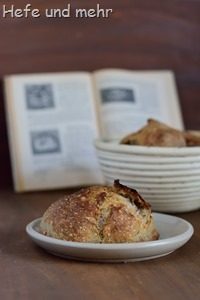 They may not  the most beautiful rolls in the world, but with the thin, crisp crust, the moist open crumb and their complex flavour they won my heart instantly.  These rolls are called  Kimmicher. Kimmich is the Swabian term for caraway seeds. The rolls are similar made as the famous "Eingenetzte". The dough is proofed for a long time and then formed with water and transfered to the oven in a small bowl.
The recipe is once again a regional one and can be found in the Swabian City Reutlingen. It is a traditional recipe, something that is already  claimed in an old Diamalt book which dates back in 1938. The dough is very wet and has to proof very long at low temperature. That is what is written in the old book, anyway. As the description is vague, and there are on ingredients listed at all, I had to trust myself when I recreated the recipe of the Kimmicher.
Reutlinger Kimmicher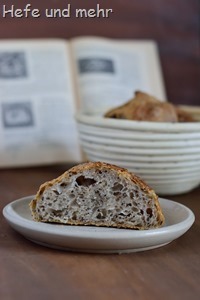 yields 5 big rolls
Autolysis
500g flour Type 550
370g Water (35°C)
Teig
Autolysis
3g fresh yeast
10g Salt
80g Water
20g caraway seeds
Mix flour and Water for the autolysis and let it rest for about 30 min.
Now add yeast and salt and knead for 2 min at slow speed and 8 min at fast speed. Now add the caraway seeds and knead until are seeds are incooperated. At least add the water in small portions and knead until the gluten network is fully developed.
Let the dough rest for 1 hour at room temperature, folding after 30 and 60 min. Then place the dough for at least 12 hours (up to 18) in the fridge.
The next day, take the dough from the fridge three hours prior baking and fold again.
In the meantime heat the baking stone to 300°C.
Wet five little bowls (about 300ml volume) with water. Divide the dough with wet hands into five equal pieces. Shape each pieces to create a bit of tension at the surface. Place with seam side up in the bowls.
Transfer the rolls from the bowl directly on the hot baking stone. After 10 min open the oven door for about 3 min to remain the steam completely. Afterwards leave the oven ajar. If the oven turns of when the door is opend, you can turn to convection mode and open the door every 3 min to remove the new created steam. Bake for another 12 min (overall baking time is 25 min).