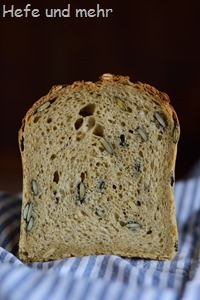 It is spring – finally! I bath in yellow sunshine and admire the green of leaves and listen to the bees collecting pollen and nectar. And I try to catch this spring feeling a bread. It has the same colour combination of green and yellow. The yellow stems from the high carotenoid content of the kamut flour while pumpkin seeds adds green sprinkles in the crumb. A bit of honey remembers on the busy bees.
To fit the bread in my full weekend schedule (new garden and my bee keeper course is keeping me still busy) I opted for a overnight version with a young sourdough and "quick" poolish. As both preferments do not stand so long  I decided to increase the amount of preferment. So all Kamutflour is fermented for a longer time which increases flavour and digestibility.
Spring bread
yields 3 breads
Sourdough
250g Whole Grain Kamut flour
250g Water
50g sourdough
Poolish
250g Whole Grain Kamut flour
250g Water
4g fresh yeast
Soaker
200g Pumpkin seeds
100g boiling water
Dough
500g spelt flour Type 630
200g Water
40g Honey
4g Psyllium hulls
20g Butter
20g Salt
Mix the ingredients for the poolish and sourdough and ferment both for 10-12  hours.
For the dough, knead all ingredients 8 min at slow speed.
Let rise overnight in the fridge (12-16 hours).
Divide into three equal parts and form into long loaves. Grease three bread pan (16 cm for 500g loaves) . Place the loaves in the pan and sprinkle with oat bran.
Proof for 1.5 hour.
In the meantime heat the oven to 250°C.
Place the breads in the oven and reduce the temperature to 220°C. Bake for 50 min with steam.