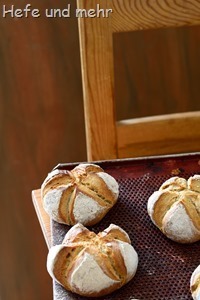 Last weekend I felt a hunger for rustic rolls with a good portion of rye. As the weekend was crowded with appointments, I opted once again for my favourite schema for easy sunday morning rolls: Proofing the dough over night. Forming, proofing and baking is something I can normally fit into our sunday morning routine easily.  And having still warm rolls for breakfast is something, we love, too.
For the form I opted for simple but pretty pattern made by a roll stamp. This time I decided to press it down through nearly the whole roll which resulted in a beautiful flower-like looking roll. And so the rolls fulfil all my criteria for good weekend rolls: easy to make and delicious! Is there anything else to wish for?
Röggchen
yields 10 Rolls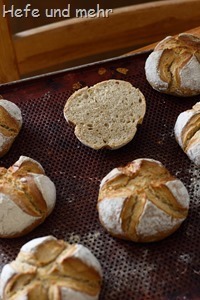 200g Rye flour Type 1150
300g Flour Type 550
230g Water
100g Buttermilk
10g Malt
10g fresh yeast
10g Salt
40g Butter
Knead all ingredients for the dough 5 min at slowest speed, then around 8 min on fast speed.
Let the dough rise over night in the fridge.
Before starting to form the rolls preheat the oven with the baking stone to 230°C.
Divide the dough into pieces of 95g each Form to round balls and press them down with a roll stamp through 4/5 of the roll. Dip the rolls generously in flour and place them with the cut side down on a baker linen.
Proof for 70 min.
Prior to baking turn the rolls upside down.
Place the rolls into the oven and bake with steam for 10 min, then release the steam (leave oven open for 3 min) and bake for another 10 min. Open the oven twice during baking to release the steam to enhance the crisp crust.