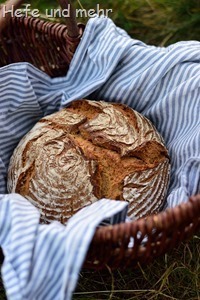 This Farmers bread is the right bread for every one who is looking for a rustic bread for busy weeknights. It uses the same principle like the summer evening bread: boiled sourdouhg. To enhance the sourdough flavour I allowed the rye sourdough to ripen for a long time. This can be troublesome in busy weeks but boiled sourdough has one major advantage: It can be prepared one week in advance. So all you have to do is making it on a not so busy day (maybe at the weekend?) and keep it in the fridge until needed. Then you have a "ready to use" sourdough at hand every day of a week.
In this case it is used for flavour and tiny tangy flavour in this bread which contains about 70% Spelt and 30% rye. Such a rustic bread gain a lot from a tiny amount of bread spice added to the dough. I opted for a small amount which only underlines the complex flavours of the long and cold fermentation. But of course you are free to adjust this amount to your taste: use more for a stronger flavour or leave it away if you do not like it. The mixture can be varied as well. I normally opt for same parts of fennel, caraway and coriander seeds.
Dinkel-Bauernbrot (Feierabend-Variante)
Rye sourdough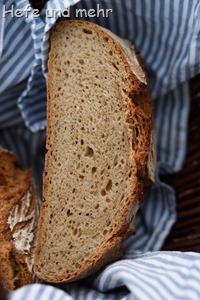 50g rye flour Type 1150
50g Water
5g sourdough
boiled sourdough
Dough
boiled sourdough
200g rye flour Type 1150
750g spelt flour Type 630
250g Water
20g Salt
20g Butter
20g inactive Malt
15g Bread spice (optional)
5g fresh yeast
In the morning mix water, flour and starter for the sourdough and ferment for about 18 hours at 25°C.
For the boiled sourdough mix sourdough with water and bring to boiling while stirring. Let cool down before using. Boiled sourdough keeps well in the fridge for about 1 week!
In the evening knead all ingredients 3 min at the slowest speed and 10 min at higher speed until medium gluten development.
Let rise in the fridge for 16-24 hours.
Divide the dough into two parts. Form to long loaves  and place in the proofing basket seam side up.
Proof for 2 hours, heat the baking stone at 250°C in the meantime.
Prior to baking, slash the loaves lengthwise and place the breads in the oven with steam. Turn the temperature back to 180°C after 10 min, relase the steam and bake the bread for another  45 min .