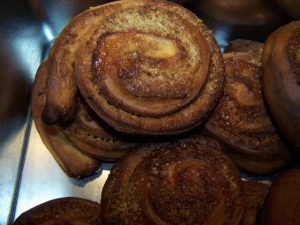 After finishing his Ph.D. last month my colleague and labbench nighbour Channa will leave us to take a job as post-doc in Cork (Ireland). What a strange feeling..
At friday we had a farewell party, and I promised to bring something sweet. It should be something, that could be easyly transported with bus and train, because I did not want to drive with our car when it is snowing.
After thinking a while I decided to do some sweet rolls. I did not like to do cinnamon buns again, but I had some left over nuts and almonds in the cupboard – so I decided to do sweet nut rolls. The filling is inspired by the glaze of  sticky buns.
Update: After we tested first the (extremly sweet) indian Sweets, my colleague from China thought the rolls were  "something salty, maybe a kind of bread"  lol Continue reading →