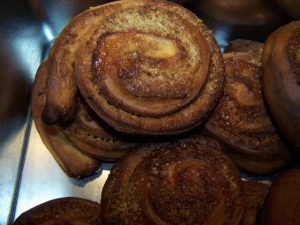 After finishing his Ph.D. last month my colleague and labbench nighbour Channa will leave us to take a job as post-doc in Cork (Ireland). What a strange feeling..
At friday we had a farewell party, and I promised to bring something sweet. It should be something, that could be easyly transported with bus and train, because I did not want to drive with our car when it is snowing.
After thinking a while I decided to do some sweet rolls. I did not like to do cinnamon buns again, but I had some left over nuts and almonds in the cupboard – so I decided to do sweet nut rolls. The filling is inspired by the glaze of  sticky buns.
Update: After we tested first the (extremly sweet) indian Sweets, my colleague from China thought the rolls were  "something salty, maybe a kind of bread"  lol
Sweet nut rolls
Dough:
500g flour(Typ 405)
250g milk
60g sugar
60g warm butter
10g yeast
5g salt
2 eggs
Filling:
100g warm butter
50g brown sugar
50g honey
cinnamon
1 pinch of salt
vanillaessenz
150g grounded hazelnuts and/or almonds
Knead all incredients for the dough, untill the gluten develops.Ferment on a warm place untill the volume has doubeld (1,5 hours). To prevent the sureface from drying, cover with a damp cloth.
For the filling combine butter, sugar and honey and season with vanilla, cinnamon and salt.
Roll the dough after fermenting to a square  40 cm to 20 cm.
Coat the sureface with the butter-sugar-mix and sprinkle with the grounded nuts. Roll it from the long side and cut it into slice of 4 cm.
Let rise for half an hour. Bake at 175°C for 25 min.
This goes to Susans weekly YeastSpotting