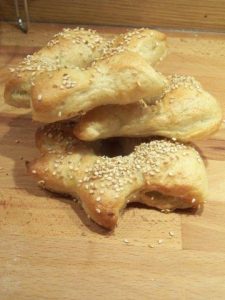 When I see the topic of the 17. Bread Baking Day this recipe came directly to my mind. I was thinking about trying it for a longer time, I just had no opportunity untill now. I knew the methode to form the stars allready from Bertinets "Dough".  Its so stunning, how two simple cuts could have such a nice effect!
For cooking the potatos I used this time the microwave. Its a simple trick, my collogues use for cooking potatos for lunch at work. Just wash the potatos and then pierce them with a fork for four or five times. Then put the wet potatos to a plate, suitable for microwaves, cover them and cook them at 750 Watt for 2 to 5 minutes, depending on their size.
Potato-Bagel-Stars
yield15 stars
preferment:
250g flour(Type 550)
125g water
2g yeast
Dough:
all of the preferment
350g flour(Type 550)
225g water
12g salt
10g yeast
35g honey
200g mashed potatos
topping:
sesame
Mix flour, water and yeast for the preferment and ferment it at a warm place for about 2 to 3 hours. Combine the preferment with the other incredients for the dough and mix untill the dough is smooth but not sticky and leave the sides of the bowl (about 10 min) . Rest for 30 min.
After resting weigh pices a 80g and form them to Bowls. Now use an old creditcard (i put the Creditcard to the dishwasher to clean them before) to make a cut in the middle of the dough. Rotate the card 1/3 and cut again, repeat it for a third time, leaving six points in the middle. Turn the dough inside out, so the points are now outside, forming a star.
Let rest for one hour (or in fridge overnight).
Boil Water with two spoons sugar and put  the bagels in the water, one at a time. Boil one minute at each side.
Lay the bagels to a baking tray and top them with sesame
Bake at 200°C for around 15 min.