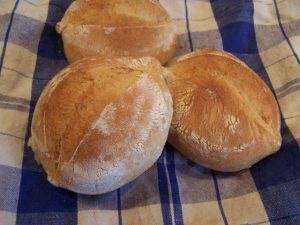 Its not a good idea to declare on thursday that I am done with baking for this week because on friday, when I see all the beautiful loafs and rolls on YeastSpotting, I always find a lot of things I want to try immediately. This time, I saw the Ceriola from La cocina de ile and could not resist. The picture was so promissing.
But the two years of learning spanish in school had passed me without having a great impact on me. I still rember some words but thats not enough to translate the recipe. With the pictures I get roughly the meaning, but it was not enough to understand it entirely. But luckily there is the Google translation service and the online dictonary Leo. With some help from both of them, I did the translation rapidly. Just the term Masa madre gave me some troubles – but here google could help me too: it is sourdough!
The methode of forming the rolls is shown in this video. Its not so complicated: just form nice bowls, then use the edge of your hand to press in the middle of the bowl. Then fold it together and roll the ends together, giving the roll two pointed Ends. I did this not carefully enough, so I lost most of this pointed ends during the rising Periode.
After baking I was very pleased with result, because it lives up to the promise of the picture. The rolls looks pretty, with a nice crump and a chrunchy crust. A great recipe!
Ceriola
yields 12 rolls
200g ripe sourdough  (100% Hydration)
500g flour (Type 550)
10 g yeast
1 teaspoon malt
300g water (add to the dough in parts )
1 teasponn citron juice
2 spoons oil
12g salt
Mix the sourdough with flour, yeast, citron juice, salt, malt and half of the Water with the kitchen machine. Add the rest of the water slowly while kneading, untill the dough is smooth but not sticky, now add the oil. Knead for 10 min.
Rest for 30 min at a warm place.
After resting weigh pices a 80g and form them to Bowls. Now use the edge of your hand to press in the middle of the bowl. Fold it together and roll the ends, giving the roll two pointed Ends.Let rise with the seamside down for 60 min. Preheat the oven with the bakingstone at 250°C during this time.
After rising, turn the rolls, so the side on which they were lying during rising is now the upper part. Bake the rolls on the hot stone with steam for 25 min.