If I have to choose between Gâteau de Zoé: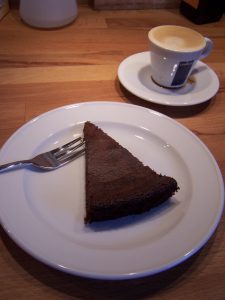 or this: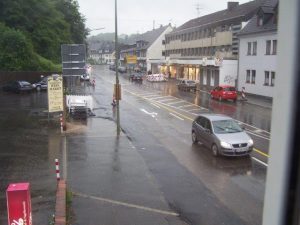 I would choose the gâteau 😉
Especially when some very drunken "Karnevalisten" thougt it would be very funny, when they would ring our doorbell at two o'clock in the night 🙁 Doorbell pranks are funny when they are played from small children younger then 10, but it is annoying when adults have the same idea. Is it impossible to have fun at Karneval without disturbing the the people living around?
As a little treat to stand the next days (and nights!) I bake the gâteau de Zoé for us. I found the cake via the side of David Lebovitz . The Story how he found the recipe is really worth reading! 😀
The recipe came from here, but I reduce the amount to 2/3 because I had not enough chocolade anymore.
Gâteau de Zoé
4 egg yolk
40g powdered sugar
4 egg white
1 pinch salt
140g chocolate (more then 60% cacao)
80g butter
2 spoons espresso
Heat the oven to 200°C .Beat the egg yolks with the sugar until they lighten and become frothy. Melt the butter and dissolve the chocolate in the butter. Put the chocolate-butter-mix and the espresso to the egg yolk and mix well. Beate the egg white with the salt and fold it into the the chocolate-butter-egg yolk mix.
Put into a spring form and bake at 200°C for 15 min. The cake has to be moist in the middle. Serve in small slices, because its chocolate in a baked form. 😀