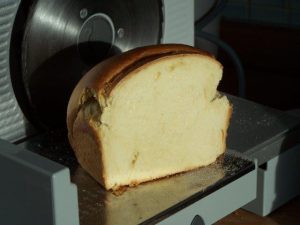 The Hokkaido-Milkbread was very often baked during 2007 as you can see in this blogs: here, here, here, here and here. And if you searching with Google you will find much more pages.  You can find the original recipe here. In 2007  I baked this bread of course too. But while I baked new recipes, I forget about the Hokkaido-Milkbread.
But its a very delicouses sweet Bread with a nice, soft crumb. The perfekt Breakfeastbread.
It`s time to bake it again!
Hokkaido-Milkbread
540g Bread flour
60g Cake flour
250 g Fresh milk
30 g milk powder
150 g heavy whipping cream
1 egg
80g sugar
10 g salt
10g fresh yeast
Dissolve the yeast in lukewarm milk and put  it to the other ingrediants in the mixing bowl. Knead untill the gluten develop, now rest at a warm place untill the volume has doubled (1.5 hours).
Devide the dough in four pices and roll out every piece to a ribbon as wide as the baking pan. Now roll it up and wet the sureface with water, then put it in the greased baking pan (33cm). Let the dough rise to 3/2 of the pan (1.5 hours).
Bake at 175°C for 40 min.
Diese ist mein Beitrag für Susans wöchentlichem Yeastspotting