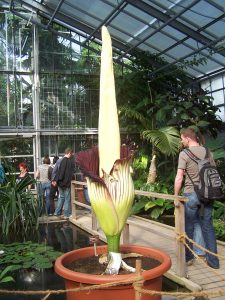 Today I have no bread to present but a botanical rarity that flowers in the botanic garden Bonn!
Amorphophallus titanum – the titan arum flowers since this weekend. The titan arum is not easy to cultivate, so it is not very often shown in botanic gardens. Since the titan arum was discovered in the 18. century in Sumatra only 122 plants flowered in gardens worldwide!
It is really an event, you should not miss. How often can you see a flower that its higher then 2m?
Who can not visit the botanic garden Bonn can find Informations about the titan arum and a  Webcam on their Homepage .