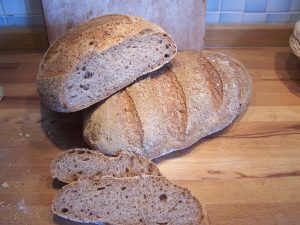 Last weekend I was very busy baking Foccaica, Bauernbrötchen nach Bäcker Süpke and two whole wheat breads. Our freezer is still filled with bread that has to be eaten first, so this weekend I can concentrated on updating my blog.
The poolish in the recipe for the whole wheat bread makes a very tasty and airy bread.
Whole wheat bread with Poolish
Poolish:
390g water
390g flour (Type 550)
0,5g fresh yeast
Dough:
whole Poolish
1 kg wheat, fresh grounded
28g salt
520g water
15g fresh yeast
Mix water, flour and yeast for the poolish and ferment it overnight (12 to 16 hours).
The next mornig: Mix all incredients for the dough and knead it for about 8 min.
Ferment the dough for 1 hours.
Shape the dough into oval loave and proof for 1 hour.
Slash the loaf directly before baking.
Bake for 60min at 250°C with steam on a hot stone.
Ich sende dieses Brot zu Susans wöchendlichem Yeastspotting, das diese Woche von Nick von IMAfoodblog.com gehostet wird.