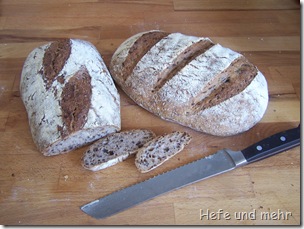 My sourdough slumbered for some time in my fridge so it was time to reactivate it and bake something with it. My last breads were simple ones without any seeds. So i decided to bake a flaxseed bread with sourdough and pâte fermentée. The pâte fermentée gives the bread a mild taste, what is better for me because sour bread makes my stomach aches.
I did not found a recipe for such a bread so I had to create a recipe of my own. The resulting breads was very tasty,  moist with hint of nuts. We take one of the three breads to my boyfrinds parents for barbeque, and it was eaten completely 😀
Flaxseeds bread
yields three breads of 850g each
Pâte fermentée:
250g flour (Type 550)
175g water
2g fresh yeast
5g salt
Soaker:
160g flaxseeds
220g boiling water
Teig:
whole Soaker
whole Pâte fermentée
500g sourdough (100% Hydration)
750g wheat, freshly grounded
40g flaxseeds, freshly grounded
250g flour (Type 550)
625g water
25g salt
Mix all ingredients for the pâte fermentée and proof it for 2 hour at room temperature. Then put the dough into the fridge for 12 hours.
At the next day mix the flaxseeds with boiling water and soak for 1 hours.
Now mix the different flours with salt, water with pâte fermentée and the levain and rest it for 30 min (Autolysis).
Now knead 5 min ad the slowest speed and 5 min ad higher speed until medium gluten development. Then add the Soaker at slow speed, knead just as long as needed, so the gluten will not be destroyed.
Proof for 1 hours.
Divide the dough into three parts. Form three loafs and proof for 1,5 hours.
In the meantime heat the baking stone in the oven at 250°C.
Bake at 250C for 40 min with steam. (Spray water on the oven walls)
Viele schöne Brote gibt es bei Susans wöchentlichem Yeastspotting zu bestaunen, ein Besuch lohnt sich immer!