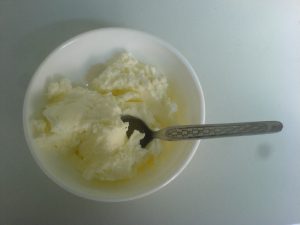 It seems like we will have icecream regularly in our lab. 🙂 After we enjoy raspberry-red currant-icecream last week, everyone asked for more. We have now nice 25°C in lab, but that does not keep us from eating icecream.
This time we make a citron yoghurt icecream, that had a very nice fresh taste and would be a good refreshment on hoter days, too. I like it even more than the last one, but I am a big fan on citron icecream!
And we have a plan for next weeks icecream , too: Stracciatella.
Citron-Yoghurt-Icecream
250g yoghurt
100g cream
juice of 4 citrons
60g sugar
Mix sugar with yoghurt, citron juice and cream. Freeze in the ice machine as written in the manual (or with liquid nitrogen 😉 ).
[tab:END]