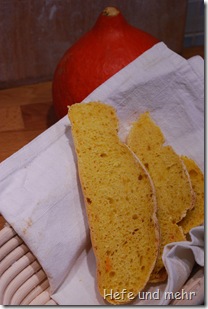 Autumn means to me: red leaves, apple scent and orange pumpkins. So what is a better bread for autumn then a pumpkin bread?
The basis for this bread was a recipe for simple bread with poolish, I just replace the water with pumpkin puree. My pumpkin puree contains some water, so I get a soft dough and did not need do add some water.
The bread turned out nice, with a nice orange crumb and a slight taste of pumpkin. But the next time I would add some pumpkin seeds and pumpkin seed oil to enhance the flavor.
Pumpkin Bread
Poolish
150 g water
150g flour Type 550
0,5 g fresh yeast
Dough
the whole Poolish
250 g Hokkaido pumpkin puree
350 g flour Type 550
12 g Salt
2 g fresh yeast
Mix water, flour and yeast for the poolish and ferment it overnight (12 to 16 hours).
The next mornig: Mix all incredients for the dough and knead it for about 8 min.
Ferment the dough for 2 hours.
Shape the dough into a tight ball and place it, seam-side-up, in a well-floured, linen lined basket or glas bowl and proof for 1 hour.
Slash the loaf directly before baking.
Bake for 60min at 250°C with steam on a hot stone.
[tab:END]
Viele schöne Brote kann man bei Susans wöchentlichen Yeastspotting sehen!