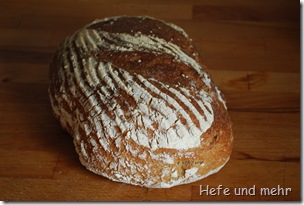 I am back from my holidays and I am back in the chaos. The lab I am working in is moving into a new building and after two years of postponeing the university preponed it now. So instead of having a whole week to pack my stuff in lab only the weekend was left. When we came back I go dirctly to the lab. I was so relived that I sorted everything in advance!
The moving itself was very exhausting and I was to tired to write something in my blog or even to read other blogs. But the main part is now done and today I have a day off because we have a security inspection. We Ph.d. students should stay away because the less persons are around the less mistakes can be done (like entering a lab without labcoat).
So I have time for answering comments, reading other blogs, writing new posts and enjoying Susans weekly Yeastspotting. Of course I bake a little bit, too. A soft whole wheat potato bread!
Whole wheat potato bread
yield 2 Breads
Pâte fermentée
250 g flourType 550
175 g water
2 g yeast
5 g salt
Teig
425 g Pâte fermentée
750 g wheat, freshly grounded
5 g yeast
300 g potatos
450 g water
20 g salt
20 g malt
Mix all ingredients for the Pâte fermente and proof it for 2 hour at room temperature. Then put the dough into the fridge for 12 hours.
The next mornig: Cook the potatos, mash it and let cool. Mix all incredients for the dough and knead it for about 3 min at low speed, then 6 min on high speed untill medium gluten development.
Ferment for 2 hours.
Form two breads and place them in brotforms.
Proof for 1 hour.
In the meantime heat the baking stone at 250°C.
Bake the breads for 45min with steam.