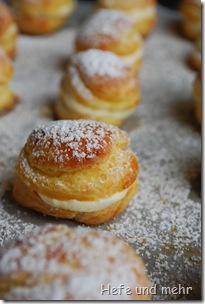 I do not like frozen cream puffs that you can buy in all supermarkets. They are too sweet and the dough is to soft after defrosting. So I decided today, that I would like to create my own cream puffs . The recipe for  Pâte à Choux is from Michael Suas "Advanced Bread and Pastry", the filling is the same like the filling of Brioche tropezienne.
The size is the same as from the frozen mini cream puffs. They are perfect snacks with a cup of coffee.
cream puffs
yield 25 cream puffs
Pâte à Choux:
90g milk
90g water
80g butter
4g sugar
3g salt
100g flour type 405
145g lightly beated egg(about 2,5 eggs. Use remainig egg for glacing)
Vanilla Cream:
2 tbs Agar
200g milk
15g starch
2 yolks
20g butter (room temperature)
1 pinche Salt
2 tsp vanilla essence
30g Water
30g sugar
70g Glucose (The glucose can be replace with normal sugar)
2 egg white
Pâte  à Choux
Head in saucepan milk, water, butter, sugar  and salt untill the mixture boils. Remove from heat and add the flour all at once and mix until all the flour is incorporated. Place the saucepan on the stove again and whip at low heat for another 1-2 minutes, untill the dough pull apart from the bottom.
Let the dough cool down a little bit, then mix in 3/4 of the egg using a eggbeater, when incooperated add the rest of the egg an continue whipping untill a smooth dough is formed and filled into a pastry bag.
The Pâte à choux is piped into small mounds onto a parchment paper lined baking sheets and glaced with egg. Bake at 175°C for 10 min, then decrease the Temperature to 160°C and bake for 20-25 min.
Vanilla Cream:
For that boil the Milk with agar, salt, vanilla essence and sugar. Mix the yolke with the starch and stir this into the boiling milk. Boil the mixture for around 2 min, stiring constantly,  then remove it from the heat, add the butter and stirr untill it is mixed completly. Pour the cream into a bowl and cover the sureface with plastric wrap to prevent skin forming.
Now boil sugar, glucose and water untill its reach 121°C.  In the meantime whipping the egg white. When the sugarsyrup reach the temperature, slowly pour it into the egg white while whipping. Keep whipping untill it cool down to 40°C.
Now fold it into the custard and fill the cream to a piping bag.
Slice the cooled cream puffs and pipe the cream immediately on the bottom half. Freeze for 3 min to harden the cream, then top with the reamining brioche half.
Dust with powdered sugar.