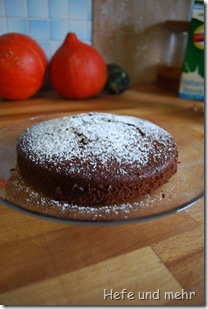 I do not bake often cake just for my boyfrind and me, because this means eating days and days the same cake! But since I got a small springform (Diameter: 18 cm) for Christmas last year,I can bake tiny little cakes now which are very fast eaten 😉
Today I bake a Chocolate Pear Cake because I found two very ripe pears in the kitchen. The dough is from "Advanced Bread and Pastry" from Michael Suas, I just cut down the sugar amount and used only baking powder instead of baking powder and baking soda.
To mix first flour and butter and then adding sugar and liquids gradually was new for me, and the dough was very thin, but the cake came out perfectly tender and soft.
Choclate Pear Cake
for Springform with a Diamerter of 18 cm
100g flour Type 405
15g cacao
2g salt
5g baking powder
60g soft butter
100g sugar
70 g milk#1
1 teaspoon Vanilla extract
50g milk#2
1 egg
2 pears, peeled and sliced
Sieve flour, cacao, salt and baking powder into a bowl and add the butter, mix with a mixer untill everything is mixed well and a lot of small crumbs has formed. Now add sugar and milk #1 in small portions while mixing, this take about 3 min. Now mix egg, milk #2 and vanilla extract and add this mixture in small portions to the dough, too. The dough is now very thin.
Pour the dough into a greased springform and place the pear slices onto the dough.
Bake at 170°C for about 35 min.
After cooling sprinkle some powered sugar on the top.