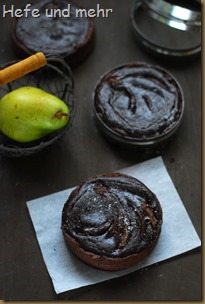 A combination which is unbeatable for me is semisweet chocolate and pear. And when I have pears in the kitchen witch has to be used quickly because they are already very ripe, I tend to always to come back to this combination.
And when I was left with one and half pear after cooking the Apple Pear Jelly I started to knead a pastry dough without much thinking. While the dough rested in the fridge I cooked the pears and whipped up a chocolate filling. The filling is flavoured with a hint of cinnamon and tonka bean which adds some depth to the chocolate.
I baked the tarteletts in rings I bought in France last year, but a regular tarte form will do as well.