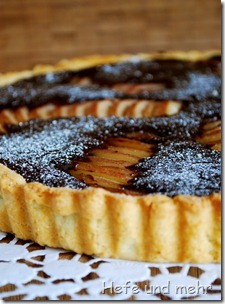 When I saw the pears in our fruit basket I had the Idea of baking a pear tart. In my recipe folder in Zotero I found the Birnentarte mit Mascarpone from Chaosqueen.  The tarte sounds very delicious but Mascarpone is nothing you will find normally in our fridge. Chocolate  on the other hand you can find nearly always in my baking cupboard. And so I checked the internet for a recipe. On Confessions of a tart I found a delicious looking recipe, a Chocolate Pear Tart.
I was to lazy to convert cup to gramm and so I decided to use one of my short crust recipe, and when I cooked the pears I followed my own directions, too. But for the chocolate filling I read the recipe attentively.
While the Tarte was baking the whole kitchen was filled with a seductive smell, and the still warm Tarte for our "Kaffeetrinken" was very delicious!
Chocolate Pear Tarte
Dough
200g flour Type 405
60g sugar
1 Egg
125g Butter
1 Pinch Salt
Filling 1
3 big pears
500g Water
50g sugar
Filling 2
150g semi sweet chocolate
150g cream
30g sugar
2 Eggs
Mix Butter with sugar and egg white, then add flour and salt and knead shortly until homogenous. Place in the fridge for 30 min. Now roll thinly and line a tarte forms (Diameter 26 cm).
For Filling 1 peel the pears, cut them in half and core them. Bring water and sugar to boil and cook the pears for 5- 10 min until tender but not mushy. Drain them and let them cool down.
For Filling 2 melt the chocolate in boiling cream. Mix the eggs in a bowl and slowly add the chocolate cream mixture.
Cut the pear halves in thin slices, fan them out a little bit and transfer them into the tarte form, the thick end of the pears pointing to the rim of the tart. Pour filling 2 into the tarte form but take care that you do not pour it over the pears.
Bake the tarte at 200°C for about 40 min.