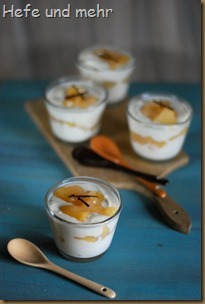 Last weekend was the christening of my sweet little nephew. To help my sister I volunteered to prepare the desert and bake a cake. For 18 adults and 9 children I prepared two different desserts (at the end I made about 58 small Glasses with Dessert what was a little bit to much): a creamy chocolate custard and a apple pear jelly with vanilla quark.  I was inspired by a recipe I found at Lecker.de but because I do not like their recipe so much I changed it a lot.
I reduced the amount of sugar and cream and increased the amount of quark, and for the jelly I decided to cook the apple and pear pieces separately and seasoned them with a little bit of Tonka bean which underlines nicely the flavour.
It is a delicious recipe which can easily prepared the day before!
Apple Pear Jelly with Vanilla quark
12 small glasses
Apple Pear Jelly
300g Pear
300g Apple
280g Apple juice
a little bit Tonka bean
20g sugar
25g starch
50g Apple juice
Vanilla quark
120g sugar
120g Water
1 Vanilla bean
750g Quark
300g cream
Peel the apples and the pears, remove the core and cut them in small pieces. Bring the apple juice with sugar and tonka bean to boil, and cook first the apple pieces, and then the pear pieces until they are still a little bit firm to bite. Remove them from the juice with a skimmer spoon. Mix the starch with the remaining cold apple juice and stir it in the boiling juice and keep stirring until the mixture boils again. Folding the apples and pears and set aside to cool down.
In the meantime bring Water and sugar to boil until the sugar is dissolved. Let the mixture cool down. Now mix the sirup with the pulp of a vanilla bean and the Quark. Whip the cream until soft peaks and fold it into the quark.
Layer the Quark and the Jelly in small glases and decorate with small pieces of vanilla bean.