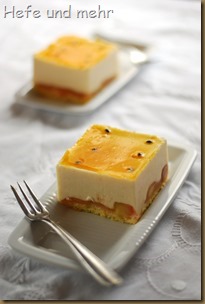 February is normally not the right time to bake little Peach Passionfruit Mousse Tortes. But when cleaning up my freezer, I found a bag with handpicked peaches which one of my dear colleagues gave to me last summer. And with three egg whites in the fridge and some passions fruits in the fruit basket I knew directly what I would do with the peaches: Bringing some summer sun into dark winter days!
The recipe follows my love for light mousse torte. A thin spong cake is topped with some peach jelly with small pieces of fruit, followed from a light mousse and the last layer made of passion fruit jelly. A delicious treat for grey winter days as well as for sun lit summer afternoons!
Peach Passionfruit Torte
yields 4 small Tortes
Sponge
2 Eggs
65g sugar
65g flour Type 405
1 Pinch Salt
Fruit jelly
2 Peach
100g Peach juice
10g sugar
1g Agar
Peach Passion fruit Mousse
300g Peach sauce(made from  500g Peach)
3g Agar
100g sugar
1 Passion fruit
3 Egg white
200g cream
Passionfruit jelly
40g Passionfruit juice (from 2 Passionfruits)
40g sugar
0,5g Agar
Beat the egg with the sugar for 10 min until the until the mixture become light and thick. Sieve the flour three times and fold it under the egg mixture. Spread the dough on a baking tray and bake at 180°C for 12 min. Let cool down. Cut the sponge in the size of the cake rings (12 cm square) and place them into the cake rings.
For the fruit jelly cut the peach into small cubes, Mix  peach juice with sugar and agar and cook for 2 min. Fold in the peach cubes and spoon them on the sponge cake in the cake rings. Let the jelly cool down.
In the meantime prepare the mousse. Head the peach puree with agar untill it starts boiling. Boil for another 2 min. Whip eggwhite with sugar fold in four tablespoons hot puree, then fold the mixture into the puree. Let cool down to 30°C. At this temperature agar starts to solidify. Whip the cream and fold it into the mousse.
Fill the mousse in the cake ring and let the mousse cool down.
Finally mix  Passionfruit juice with sugar and agar and cook for 2 min. Let cool to 35°C then pour on the top of the torte. Place in the fridge until serving.