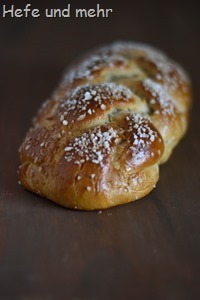 Sometime it is good to have a delicious recipe at hand, which works well for those, who are not eating milk, eggs or wheat. For me, it is important that these recipes do not taste like "replacements" but are delicious stand-alone recipes.
The Spelt Potato Braid is one of this recipes. The dough is made without milk or eggs and if you replace the egg for glacing with the optional shiny glazing mix the recipe is vegan. The potato keeps the dough moist and tender, and a good portion of almond butter supplies the dough with an extra portion of fat and adds flavour. The almond flavour can be further enhanced when some grounded tonka bean is added to the dough, too.
And so, the braid is delicious and full of flavour: a braid with tendency to be a new favourite!