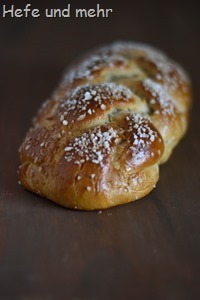 Sometime it is good to have a delicious recipe at hand, which works well for those, who are not eating milk, eggs or wheat. For me, it is important that these recipes do not taste like "replacements" but are delicious stand-alone recipes.
The Spelt Potato Braid is one of this recipes. The dough is made without milk or eggs and if you replace the egg for glacing with the optional shiny glazing mix the recipe is vegan. The potato keeps the dough moist and tender, and a good portion of almond butter supplies the dough with an extra portion of fat and adds flavour. The almond flavour can be further enhanced when some grounded tonka bean is added to the dough, too.
And so, the braid is delicious and full of flavour: a braid with tendency to be a new favourite!
Spelt Potato Braid
yields 3 Braids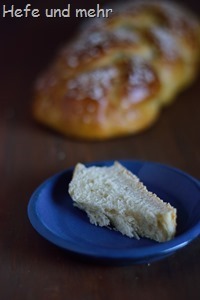 Sweet Starter
Dough (vegan)
Sweet Starter
800g Spelt Type 630
120g Almond butter
220g cooked potatoe
300g Water
60g (roasted Almond-)  Oil
150g sugar
20g fresh yeast
8g Salt
grounded tonka bean
Shiny glaze (vegan)
alternatively: Egg-Glazing
Topping
Mix the ingredients of the sweet starter and let it rise for 2-4 hours at 30°C until it doubles its volume.
Knead all ingredients except sugar for 10 min at slow speed.  Now add the sugar in two increments and knead 1 min after add each portion of sugar. Knead to full gluten development.
Let rise overnight in the fridge or  for one hour room temperature plus 1-2 hours in the fridge.
Divide the dough and roll it into 18 strands (each about 30 cm). Take always six and braid them.
Proof for 90 min.
In the meantime prepare the shiny glaze: Bring starch and water to boil while stirring constantly. Remove from the heat and let cool down to room temperature.
After proofing brush again with they shiny glaze (Alternatively use egg glaze) and sprinkle with pearl sugar. Bake at 180°C for about 40 min with steam.