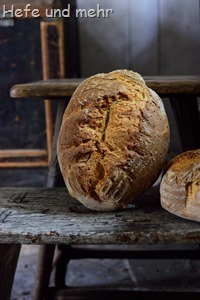 I could call this bread a simple "leftover bread". But this would be to simple as the bread is a really delicious one. But to be honest, it contains a lot of leftover flours. There is the package of einkorn flour I found behind my flour box. And the bag with the little bit of spelt flour and another bag with some leftover rye flour. And as these three did  not yield enough flour for a bread, I added some wheat flour, too.
As I planned to bake the bread in the wood fired oven in our regional history museum, I had to plan accordingly. For an relaxed baking day, I prefer to knead the dough friday night and let it rise over night in the fridge. But this normally means that I have to prepare the preferment in the morning before I leave for work. But – with school years end so near – I knew I would be to tired that morning for mixing a preferment at 5:30 am. As workaround I decided to let the poolish ferment in the fridge as well. It needs about 24 hours then, but with a bit of planing ahead, it minimize the time I had to spent each day with preapring the bread.
Baking with my bread baking friends from the mueseum was a joy – like always. And as we took the breads from the oven I knew already that I would love my Four Grain Bread. It had a thick crust but felt light when lifted – a promise of a fluffy crust. When I tried the the first slice I was very happy: The poolish enhances the nutty flavour notes of the einkorn without overpowering its aroma. It is one of this breads I eat with only a bit of butter and a sprinkle of salt!
Vierkornbrot
ergibt 2 Brote
Einkorn-Poolish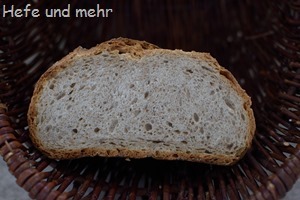 300g Einkorn flour
300g Water
2g fresh yeast
Teig
Poolish
300g rye flour Type 1150
150g spelt flour Type 630
350g flour Type 550
415g Water
60g Butter
20g molasse
14g fresh yeast
21g Salt
Mix water, flour and yeast for the poolish and let it ferment for 24 hours at 4°C (Fridge).
Now mix all ingredients for the dough, and knead it 3 min on slow speed and 8 min on high speed.
Let the dough rise to overnight in the fridge.
Shape the dough into two long loaves and place them in proofing baskets, seamside down.
Preheat the baking stone to 300°C. Place the loaves in the oven, reduce the heat to 250°C and bake with steam for 10 min. Now reduce the temperature to 180°C and bake another 50 min. For a extra crisp crust turn on convection mode during the last 10 min.