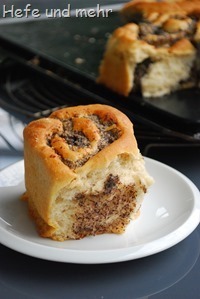 Sometimes recipes are just created to use leftovers. This recipe is one of them. I created it spontaneously, when my mother-in-law and me started to sort her baking supply's last week and found different nuts and poppy seeds a bit past the "best before" date. We checked them and they tasted still fine, so we decided to bake something with them. And while the thermometer outside slowly reached 35°C we kneaded a dough and prepared a filling following a well  proven formula.
The rolls turned out very delicious : the moist filling is wrapped inside the fluffy crumb. We enjoyed them at a nice shadowy spot in the garden. A fast and delicious treat on hot day!
Poppy seed–Nut–Rolls
Dough
500g flour Type 1050
240g Water
55g Egg (1 Egg size M)
10g fresh yeast
50g sugar
5g Salt
65g Butter
a bit of grounded tonka bean
Filling
350g Milk
200g sugar
130g poppy seeds, grounded
200g Hazelnuts, grounded
100g almonds, grounded
50g bread crumbs
1 Egg
Knead all ingredients except the butter for 5 min at slow speed. Then knead 8 min at slow speed. At last add the butter all at onc and knead untill the butter is completly incooperated.
Ferment for one hour, then place the dough in the fridge for another hour. Because of the  cooling you can handle the dough easier.
While dough is fermenting prepare the filling: Bring milk and sugar to boiling, then stirr in the grounded nuts and poppy seeds. Stir the mixture until its starts to bubble. Now set aside to cool down. After cooling fold in the egg.
Flatten the dough to a rectangle, spread with butter and coat thickly with the filling. Roll it from the long side rather loosely into a log. Cut in 4 cm wide slices, place in a greased form and proof for one hour.
Preheat the oven to 175°C and bake for 35 min untill golden.