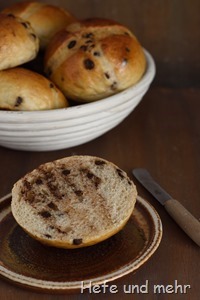 Chocolate is always a good idea. And already since childhood I'm in love with the "Schokoladen-Weckchen" (Sweet chocolate rolls) which the baker in my home town baked. And during the sorting of my baking suppleys I found chocolate drops, which I original bought for baking cookies. But when I saw them, I coudn't get this rolls from my mind. And so I decided to recreate the treat of childhood days!
As there was a bit of cream left in the fridge, I decided to base the dough loosley on the recipe of my favourite Sunday braid, but with some rye flour to enhance their tenderness and shelf life. This is a lesson I learned from several traditional recipes for sweet bread.
Schokoladen-Weckchen
yields 11 Weckchen
Sweet Starter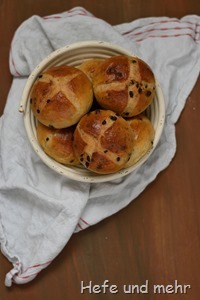 Teig
Sweet Starter
300g flour Type 550
120g rye flour Type 1150
150g cream
75g Water
60g sugar
40g Butter
55g Egg (1 Egg size M)
5g active Malt
10g fresh yeast
8g Salt
120g semi sweet chocolate drops
Glazing
Mix the ingredients of the sweet starter and let it rise for 2-4 hours at 30°C.
Knead all ingredients except sugar and butter for 5 min at slow speed. Then knead 7 min at fast speed. Now add the sugar in small increments and knead until the sugar is incooperated before adding the next sugar. Add the butter all at once. Knead to full gluten development. At last, knead in the chocolate drops.
Let rise for 90 min.
Divide into portions of 90g. Form a round buns and place it on a baking tray.
Proof for 90 min, preheat the oven in the meantime.
Brush with egg and at 210°C for about 15 min with steam.