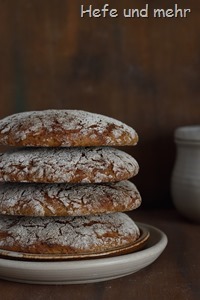 The spicy flavour of grounded caraway, fennel and coriander seeds in combination with the tasty Schabzigerklee (Trigonella caerulea) makes it hard to resist these rye flatbreads. They taste very (!) similar to the Tyrolean flatbread named Vinschgauer. But while traditional Vinschgauer are made with sourdough, these variant is made with an rye-buttermilk-poolish instead. It is a recipe well suited for the advanced beginner. Someone, who did not started the adventure of rising an own sourdough, but is not afraid of sticky rye dough. How sticky the dough will be can be regulated by amount of added buttermilk. The more buttermilk is added, the more stickier the dough will. But a plus of buttermilk makes the flatbreads more moist, too, so it is worth the hassle with a sticky dough anyway! And the dough will be sticky in any case – just as prewarning!  But with some flour on hands and counter top the dough can be handled very well!
Spiced Rye Flatbread
yields 6 Flatbreads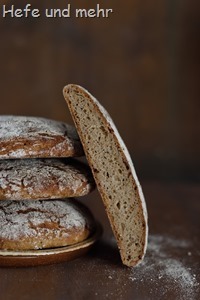 Rye Poolish
175g whole rye flour
1g fresh yeast
350g Buttermilk
Teig
Poolish
225g rye flour Type 1150
100g flour Type 550
50g (for careful bakers) – 100g (for brave bakers) Buttermilk
2g caraway seeds (grounded)
2g fennel seeds (grounded)
2g coriander seeds (grounded)
0,5g  Schabzigerklee (1/2 gestrichener Tl)
5g fresh yeast
10g Salt
In the evening mix buttermilk, flour and yeast for the poolish and ferment for about 14-16 hours at room temperaure.
Mix all ingredients for the dough  until a homogenous dough has formed.
Ferment for 30 min.
Now form the flatbreads: Divide the dough into 150g pieces, shape them round and press them into flatbreads of 0,5 cm tickness.
Proof on a well floured couche for 1 hour. In the meantime preheat the baking stone in the oven to 250°C.
Bake at 250°C for 25 min. Insert the steam after 90 seconds with steam and let the steam out of the oven after 10 min.