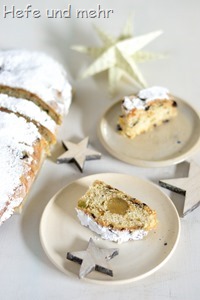 Spelt is a favourite and so I was regulary asked if my Stollen can be baked with spelt flour, too. I answered "theoretically yes" and decided to bake a Stollen with spelt flour instead of wheat, too. I like to have a practical background for those answers.
The dough contains only minimal changes to the regular recipe: I used a mixture of sultanas and currants instead of raisins and I reduced the amount of yeast, too. And I replaced the wheat flour with spelt flour, of course.
After three long weeks of resting time we cut the spelt stollen for the first Advent. And it was as moist and mellow as a good stollen has to be. Maybe it is a bit more mellow then the normal recipe, but that was the only difference I recognize. The different spices are stronger then the slight spelt flavour and I doubt that I could tell the spelt and wheat stollen apart when blind testing. And so I can tell now with own experience: Yes, you can bake a spelt stollen!
Marzipan Almond Stollen
ergibt 2 Stollen von je 800g
Soaker
150g sultanas
150g currants
100g almonds, chopped
30g Rum
boiling water
Water roux
30 g spelt flour Type 630
150g Milk
Preferment
100g spelt flour Type 630
100g cold milk (ca. 15°C)
35g fresh yeast
Dough
Water roux
preferment
400g spelt flour Type 630
5g Salt
1/2 Tl Winter spice or a mixture of cinnamon, cardamom, allspice
seeds of 1/2 vanilla beant
a pinch of grounded Tonka bean
75g sugar
250g Butter, soft
50g candid orange peel
50g candid lemon peel
Filling
Coating
75g Butter
100g sugar
100g powdered sugar
The night before: Mixfruits and almonds with rum and boiling water and let them soak for about 12 hours
The next mornig: Mix flour, milk and yeast for the preferment. Ferment until the size double. For the water roux whisk milk and flour until lump free, then heat it up to 65°C (needs about 3 min) while whisking. Fill the water roux in a bowl, cover its surface with cling foil and let it cool down to room temperature.
Cream butter and sugar, then add water roux, preferment, flour, salt and spices. Knead until  a homogenous dough forms, but be carful, the dough temperature should not become higher then 22°C.
Rest for 30 min. Drain fruit soaker in the meantime and chop the orange peels in the food processor as fine as possible. Knead the almonds, chopped orange and lemon peels in the dough. Knead just as long as you need to incorporate them.
Divide the dough and let rest it rest for 45 min .
Half the marzipan and roll it to two 30 cm strands.
Form the dough into an oval loaf and flatten the middle with a rolling pin. Lay the marzipan in the middle and fold the dough over it.
Proof for 20 min.
Meanwhile, heat the oven to 200°C.
Bake for 40 min.
Glaze with melted butter and sprinkle thickly with sugar. Let it cool overnight, then cover thickly with powdered sugar and wrap in aluminium foil. Store it at a cool place for at least one week (better two or more).