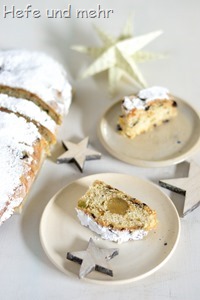 Spelt is a favourite and so I was regulary asked if my Stollen can be baked with spelt flour, too. I answered "theoretically yes" and decided to bake a Stollen with spelt flour instead of wheat, too. I like to have a practical background for those answers.
The dough contains only minimal changes to the regular recipe: I used a mixture of sultanas and currants instead of raisins and I reduced the amount of yeast, too. And I replaced the wheat flour with spelt flour, of course.
After three long weeks of resting time we cut the spelt stollen for the first Advent. And it was as moist and mellow as a good stollen has to be. Maybe it is a bit more mellow then the normal recipe, but that was the only difference I recognize. The different spices are stronger then the slight spelt flavour and I doubt that I could tell the spelt and wheat stollen apart when blind testing. And so I can tell now with own experience: Yes, you can bake a spelt stollen!