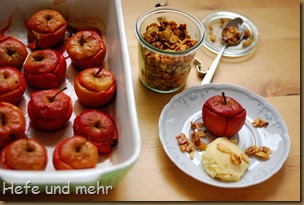 On the first christmas day we met with my family at my sisters place. To reduce the work for her (and because I like to do it) I offered to make dessert. For a long time I was lacking a good idea. But when I was decorating our flat with my Christmas apples I knew what to cook: Mini baked apples with ice cream. In our childhood my mum always bought marzipan ice cream (shaped as christmas tree) for us. And so I knew the flavour for the ice cream as well: Marzipan! Inspired by Michas cream cheese ice cream I created a new recipe and it is perfect for christmas time because you can make it in advance, freeze it and serve it directly from the fridge. Due to the high amount of invertsirup and cream cheese it will be soft and perfect  to eat!
And the combination of cold ice cream, hot apples and crunchy almonds was the perfect end of a delicious Christmas meal!
Marzipan Ice creams
200g Marzipan
250g Milk
1/4 Vanillebean
a little bit fresh grated Tonka bean
1 Pinc Salt
70g sugar
100g Invert syrup
200g cream ceese
200g cream
Divide the marzipan into small pieces . Bring milk,sugar, salt and spices to boil. Stir in the marzipan and simmer and stir until the marzipan is dissolved. Remove from the heat and stir in Cream cheese and Invert syrup. Let cool for at least several hours in the fridge (better overnight).
Remove the vanilla bean and whip the cream. Fold the whipped cream under the mixture and let it freeze in the ice cream maker according to the manual. Fill it in a freezer safe box and freeze it for at least another hour (or longer).
Little baked apples
12 very small apples (about  5-6 cm Diameter)
60g Marzipan
red currant jelly
Wash the apples and cut the part with the stem as lid. Set the lid aside and remove the core from the upper part of the apple. Place all apples in a casserole. Press a small piece of marzipan in each of the apples to seal the apple. Fill wit red currant jelly and put the lit on the apples.
Bake at 180°C with steam(or in a casserole with lit) for 20 min.
Caramelized almond
75g sliced almonds
15g sugar
Heat a pan to middle heat. Add the sliced almonds and roast them for about 3 min. Now sprinkle them with sugar continue stirring, until all almonds are covered with a very thin layer of caramel. Let the almonds cool on a plate before filling them into a jar.